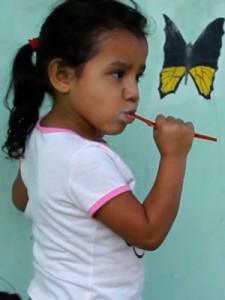 A pressing need for many children in Latin America is the motivation and knowledge of how to properly care for their teeth, as well as access to toothbrushes and toothpaste. Many well intentioned travelers hand out these supplies, but they are sometimes resold or improperly used when gifted without context or follow-through.
The puppet skit created by Anne Fowler in Honduras and adapted for video by ChangeStream Media turns your gift into an event teaching children the why and how of brushing. It also touches on related topics of a healthy diet and visiting the dentist. Equipped with this video on your mobile device, you can give presentations in classrooms, churches and other gathering spots, and turn a handout into a memorable experience for you and the children.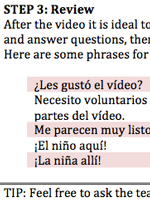 Step 1: Download the instructions
Print this two-page document full of pointers for orchestrating the dental presentations, complete with what you need to say in Spanish when you screen the video. You could even simply show the page to local helpers and point.
Step 2: Download the video onto your mobile device
You can stream the 9-minute video from the Internet, but to save you time in reformatting it for your smartphone or laptop you can download the reformatted files directly:
iPhone/iPod (640×360, .m4v, 125 MB)
iPad (1280×720, .m4v, 184 MB)
Laptop (1280×720, .mp4, 193 MB)
Step 3: When you begin your journey, stop by a local grocery store and purchase toothbrushes and toothpaste. This puts money in the local economy, and will be cheaper than buying the supplies in your home country.
Now you're ready to play the role of Tooth Fairy wherever you go! At ChangeStream Media we believe multimedia productions with a fun, artistic flair can transcend cultural barriers and create real value in the lives of people in disadvantaged communities. Our self-guided volunteer opportunities rely on your participation, so please let us know how your experience with the puppet show went! Share a video, tweet us, or be part of the project by cluing us into other dental games and activity ideas. Thanks!
UPDATE: We had a successful trial run of the program with 100 primary school students in Copán Ruinas, Honduras! Pictures here. The PDF has been updated to reflect some of the things we learned. FYI: Local toothbrush cost was 40 cents; a medium tube of toothpaste was $1.
Thanks to Anne Fowler, Iris Zulema Carranza Rivera, Carly Sellers, Jim Beal, Monique Mitchell, Ruth Castro, Iglesia La Gran Comisión and Ellen Finn for their help on this project.