Part of our mission at ChangeStream Media is to provide tools for travelers to connect with other cultures through media and the arts in ways that benefit the communities they visit. Created in partnership with local nonprofits, these multimedia projects raise awareness about important issues while serving as a bridge over language barriers and cultural boundaries.
Cambodia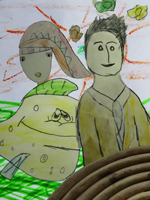 Our first volunteer package is for people visiting Cambodia, where the education system is still recovering from the genocide of a generation of teachers under the Khmer Rouge in the 1970's. Illiteracy is a major problem, especially in the rural areas. Our video about the Cambodian Children's Advocacy Foundation explains these problems and shows how rural preschools can be part of the solution.
Our Cambodian Flashcard Volunteer Project consists of English/Khmer flashcards that you can download and print, along with a video in the Cambodian language teaching parents, educators and children how to play games and learn vocabulary with these tools. Turn every bus ride and street stall lunch into a fun game with Cambodians of all ages, and give a gift that outlasts candy or coins.
Latin America
Working with the nonprofit HondurasChildren and Healthy Living program founder Anne Fowler, we realized that dental health is a critical need for children in Central America. The Healthy Living program uses puppet skits to teach primary school students to brush properly and avoid sugary drinks, as well as the importance of seeing a dentist if possible. The performance is rounded out with the distribution of toothbrushes and toothpaste for use at school.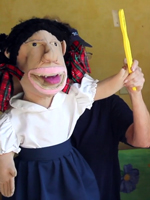 We have adapted Anne's puppet skit into a short video that you can download to your mobile device and show to children, parents and classrooms during your travels. Combining a gift of toothbrushes and toothpaste with a video performance is a great way to create a memorable event and ensure your donated gifts are put to good use. If your Spanish is up to the task, try asking quiz questions after the video and get all the children to practice using their new toothbrushes!
Visit the Spanish Dental Volunteer Project page for all the details and supplementary materials.